I stumbled upon a great article from PCWorld's Derek Walter on how Google Search links to your Android phone, in 5 different ways.
Perhaps, one of the most useful of those 5 is to send a map to your phone for offline use, or to help a friend. Have you ever gotten a call from someone trying to find a location and asking for your help? You can actually send directions directly to your friend's phone using Google Search.
Need to remember to stop by the grocery store on the way home from work? Send yourself a reminder at a scheduled time (on the way home), so you can walk in the door with the milk as requested, a conquering hero! You know you always forget.
And, I know you've never misplaced your phone, certainly I never have (cough, cough). Google Search can help you find it.
Thanks to Derek Walter and PCWorld for a very informative piece.
Five ways Google search works directly with your Android phone
You can now do even more than send directions to your phone or track its location down via Google search. Google keeps adding tricks, and now there's a total of five functions that tie Google even closer to your Android phone.
To make any of these happen, just open a new tab in Chrome or head to the Google search page in another browser. When you type the right phrase a box will appear for you to add the content, along with a menu to select which of your Android devices you want to connect with.
Be sure you're signed in with your Google account in order to make these five options work properly. Google has a support page for linking your phone to these services if you run into issues.
1. Send a reminder
Type "set an reminder" or "remind me" (without the quotes) and then write your note in the box. Once it's sent, you'll get a notification on your device, which you can open with several different apps, such as Evernote, OneNote, or Google Keep. With the latter, you can pick a time or location to get your reminder.
2. Set an alarm
You can search for "set an alarm" and then select a time, or specify "set an alarm for 6:30" in the search box or Chrome address bar. The alarm will appear in the default Clock app on your device. For now, it looks like you can't pick a third-party app for this.
3. Send a note to your phone
Type in "note to self" or "create a note" and add the details.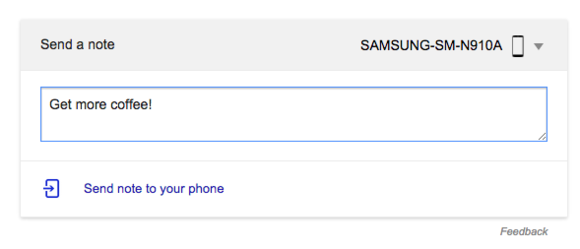 http://csmb.staticworld.net/images/furniture/techhive/backgroundwhite70.png);">GOOGLE
Send notes and reminders right to your Android device.
Just as you're able with the reminders, you can open it with Gmail, Keep, Evernote, OneNote, or similar apps.
4. Get directions
As we discovered recently you can send directions right to your phone or tablet. Just type "send directions" on the Google search page or in a Chrome tab and it will launch a map interface, complete with auto-suggestions for typing in where you want to go.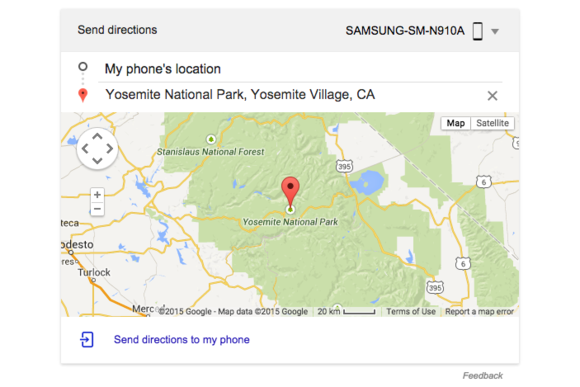 http://csmb.staticworld.net/images/furniture/techhive/backgroundwhite70.png);">GOOGLE
Get a map and directions sent right to your Android device.
When you unlock your phone it will launch right in Google Maps, ready to guide you on your journey.
5. Find your phone
If your device has gone missing, whether in the house or back at the restaurant, you can track it down very quickly. Just type, "find my phone" and Google will pinpoint your device on a map.
There's a button for ringing your phone, which is helpful if you think it's under the couch. However, you'll need to hop over to Android Device Manager if you want to lock or wipe it because it may be stolen.